Online Induction >> Professional Development Training
Published 26/01/2022
What is Professional Development Training and why is it important?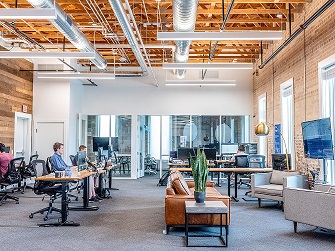 Employee empowerment is the only motivation that can make them stay in an organization for a long time until retirement. Companies that promote employee development enjoy quality services from the workforce and retain their clients. Thus, some clients feel satisfied when served by certain people in a company and when they revisit and do not find these employees they tend to feel frustrated. By such an action, they may think otherwise and quit the services of that company.
The only solution to such a problem is through professional development. Professional development is the training, mentorship, certification, and creating awareness that help employees succeed in their careers. Emerging technologies have ruled the world we live in, and some employees do not possess the skills to interact with them.
Through professional development, they gain new technology that enables them to transform from the analog to the digital world. The future of technology is unknown, and employees need to be trained regularly to solve modern problems. Professional development involves:
- Continuing education research
- Improving job performance
- Skill-based training
- Individual development plans
- Coaching
- Cross-training
- Succession planning
View Templates, Forms and Examples

Common Components of Professional Development Training
- Leadership
The backbone of professional development is the nature of leadership within the organization. A company that embraces professional development implements leadership skills training program that creates awareness of the basics of being a leader. The management team should motivate and enhance participation among employees. Professional development equips employees with essential leadership skills that go long away to enhance productivity in the organization. When employees are empowered, they gain the courage to assume higher leadership positions when top officials retire.
- Communication
Communication is an element of professional development that is worth being emphasized. It forms the basis of every activity that involves humans, and organizations that value it usually register positive rewards. Employees need to learn how to communicate with their colleagues, supervisors and other stakeholders.
Communication becomes essential when employees are airing their grievances to the management. The quality of communication in a workplace is measured when there is a misunderstanding between the senior and junior employees. A communication training program that fosters openness, upward and concise communication is worth to be implemented in a workplace.
- Coaching
Skilled managers lead successful teams, and coaching programs are the success. Good managers are the ones who identify strengths and weakness within the workforce. When weaknesses are identified, coaching programs are implemented by the management to create awareness of the risks identified. On the contrary, when strengths are identified, the employees are congratulated by rewards and promotions to keep the spirit.
- Delegation of duties
A sound management system does not assign all duties to senior employees but instead assigns some responsibilities to the junior employees. A sense of belonging is only created through employee engagement. High employee productivity results from the sense of owning the organization when the junior employees are assigned duties and become self-managers. In an organization that overloads supervisors and other top officials with tasks, job satisfaction suffers and opts to search for employment in other better companies.
- Motivation
A company that demands quality results and a high production rate does not do it directly; instead, it motivates its workforce. Through better salary, payable over-time, good medical care, holiday pack and compensation, a motivated employee will strive to work for many hours and produce good results. As the top manager of the CEO, incorporating motivation in a management system is ideal for retaining employees, high production rate, and better decision making.
- Change management
Implementing change in a workplace is the most challenging decision that employees hardly accept. Change is not easy. Employees need to be educated on accepting changes in their lives and embrace the results. When a change is implemented, it aims to generate better outcomes and not devalue the employees. An example is when organizations move from analog to digital ways of executing duties. Employees who are not equipped with change management skills will oppose the transition.
Supervisors and top managers should be equipped with suitable training courses for helping the workforce to develop professionally. When a new technology is invented, all employees must be trained on utilizing it.
Commonly professional development forms part of your
corporate training program
,
employee training plan
or
enterprise learning management
.
Some professional developmen might be issued via a
mobile training app
for bite sized digestible training content.
Setup a Professional Development Training Plan
View PD training examples, create PD training courses, plans and view templates right here