Online Induction >> Safety Induction >> Presentation
Create your first Safety Induction Presentation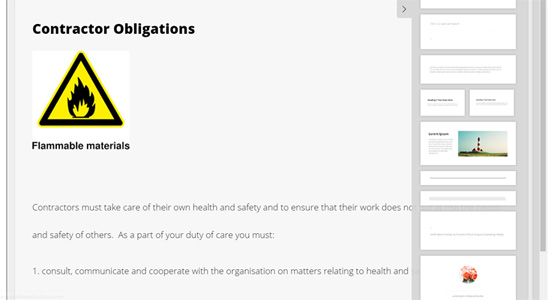 Using our slideshow builder you can create your own safety induction presentation from scratch. A simple drag and drop interface, build online slides with text, images, insert videos, animations, sound and more. Create as many slides as you want and if you are struggling for content, point, click and choose from our massive safety course library so that you can have a truly customised but site specific safety induction for your workplace.
Create slides
Using our drag and drop slideshow editor, easily build out your safety induction presentation in minutes
Here's some great safety induction presentation topics to include
Massive library of ready to go safety content
Don't waste hours, days or weeks trying to create a slideshow from scratch, just use our templates and change the text as necessary. We've got it all! No matter the industry, pick from a matching safety induction and start using it.


See how our safety induction system can work for your organisation by looking at the online demo via the form above or - Contact Us