Online Induction >> Employee Onboarding Software > HR Onboarding
Published 28/12/2022
HR Onboarding Software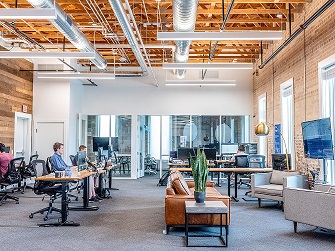 An organization's bottom line is usually affected by the quality of the onboarding experience. It takes a lot of effort to recruit new employees, train them, and get them up to speed with the organization's policies and procedures. Thus, the automated onboarding solutions, HR onboarding software, typically improve the employees' first-day experience at work. In addition, it is usually unproductive to manually carry out and monitor training while physically handling paperwork and checklists.
But with good onboarding tools, you can lighten the workload and guarantee that recruits blend in right away. Of course, it takes time and resources to onboard new staff properly, but the expense is well worth it. A quality onboarding experience can boost productivity by 70% and employee retention by over 82%. This will commonly form part of your
Employee Onboarding
strategy or
Onboarding Program
.
What is HR onboarding software?
HR onboarding software is a tool that allows you to incorporate new staff into your organization before their first day at work. This software simplifies the document management workflows and ensures your new hires stay upbeat.
View HR Onboarding Templates, Forms and Examples

The benefits of HR Onboarding Software
When using HR onboarding software, you focus on creating better first days and fewer formalities. As a result, you're better positioned to manage paperwork and simplify setting up new hires in advance with IT checklists and brilliant welcome emails.
Generally, HR onboarding software helps in:
- Eliminating paperwork from payroll to benefits documents
- Digitizing pre-boarding procedures and documents (employee handbooks, offer letters, etc.)
- Collection of electronic/digital signatures and keeping them in digital databases
- Empowering the new hires with online benefits enrollment
- Dealing with multiple individuals digitally
- Simplifying the payroll setup
According to research, new hires decide to stay with your company within the first six months, and a successful onboarding process significantly impacts that decision. Also, seamless HR onboarding software makes it easier to maintain an organized and effective employee onboarding process, making you and your company look professional to new hires and increasing the likelihood that they'll stick around as long-term workers.
When selecting HR onboarding software, consider:
- UI-The user interface must be easy to use since the new staff doesn't want to spend much time learning how to use the HR onboarding software.
- Integrations-The software should incorporate all other tools that support remote onboarding, such as e-sign, video interface, and apps.
- Emails and reminders-Your tool should efficiently collect the signatures, send welcome emails, and deal with all the paperwork promptly with reminders.
Key features of HR onboarding software
- Automate workflows-You should look for software that enables the user to set up criteria as well as triggers to automate HR operations so that you don't have to repeat actions over and again.
- Training modules-Software can assist organize, facilitating, and tracking learning activities. Onboarding entails a comprehensive orientation process and training.
- Self-service benefits- During onboarding, you might sign up for virtual corporate benefits like health insurance, parking permits, and supply requests.
- Company wiki- Any new staff who requires fundamental how-tos, business culture notes, and ORG charts will find well-organized information and FAQs valuable.
- E-signatures and contracts- Official documents may be scanned right into the system for professional document management purposes or made paperless through the online onboarding process.
- Communication with liaisons- Employees should be introduced to the faces, names, and contact details of those who may assist them through the use of onboarding solutions.
- Staff feedback- To ensure that the staff is happy with the process' structure and pace, it is essential to gather comments and queries during the onboarding process.
When choosing the right onboarding solution, you must consider your company's needs and workflows. Thus, when you decide on the perfect software, it will help you save time and resources and assist you in implementing an exceptional onboarding experience. Ensure every critical document or form is collected and signed online before day one. Ensure that you address the mundane task of new staff joining your organization with a seamless solution!
Why HR Onboarding is Important in 2023
HR onboarding is an important process for any new staff member starting in a workplace because it helps the employee to become acclimated to the company culture, learn the job duties, and be productive in the workplace. It also helps to make sure that the new employee has all the necessary resources to be successful in the job. Onboarding helps to establish a good relationship between the employee and the employer, and it can also help to reduce turnover and increase employee satisfaction. It is important for employers to make sure that the onboarding process is thorough and effective so that the new staff member can make a smooth transition into the workplace.
If HR does not run an onboarding process for a new staff member, they may not have a clear understanding of the company policies, expectations, and culture. This could lead to issues such as low morale, poor performance, and confusion. It also leaves the new staff member feeling unprepared and disconnected from the team, which can lead to frustration and a lack of engagement. Ultimately, not running an onboarding process can have a negative impact on a new employee, the team, and the organization as a whole.
Setup guide: what steps you might inlude in the setup
When setting up an onboarding process, the common steps and goals you might consider in the setup could include: - Create an onboarding plan:
Develop a comprehensive onboarding plan that outlines the tasks and activities you will need to complete in order to successfully onboard the new hire.
- Gather necessary documents:
Collect the necessary documents for onboarding, such as the employee's identification, tax forms, and other paperwork.
- Prepare the workspace:
Get the workspace ready for the new hire. Make sure it is clean and organized, and stocked with the necessary tools and supplies.
- Introduce the team:
Introduce the new hire to the team and provide them with contact information for their colleagues.
- Orientation:
Provide the new hire with an orientation to the company, its policies and procedures, and their job duties.
- Training:
Provide the new hire with training on the job tasks they will be expected to complete.
- Communication:
Establish effective communication between the new hire and their supervisor or manager, as well as their colleagues.
- Follow up:
Follow-up with the new hire after a few weeks to ensure that they are adapting to their new role and to answer any questions they may have.
View a ready to go HR Onboarding workflow right here:

Try creating your HR Employee Onboarding process online
Try out our onboarding iPhone app!
Try creating your own onboarding process delivered via an app for smartphones or tablets: