Online Induction App
Setup your organisations induction on the
Induction
app, the long established and highly trusted mobile app for online inductions, first launched on the app store in 2012!
- Available on Apple and Android devices
- Transform your induction content into a mobile format
- Setup content, presentations, forms, check lists, assessments, document libraries and more
- QR codes and digital passport for scanning certificates and training through to compliance spot checks
- Issue a digital compliance passport
- Use to sign in and out on site
- Track compliance
- Setup Site Inductions
- Free for users to download and complete their induction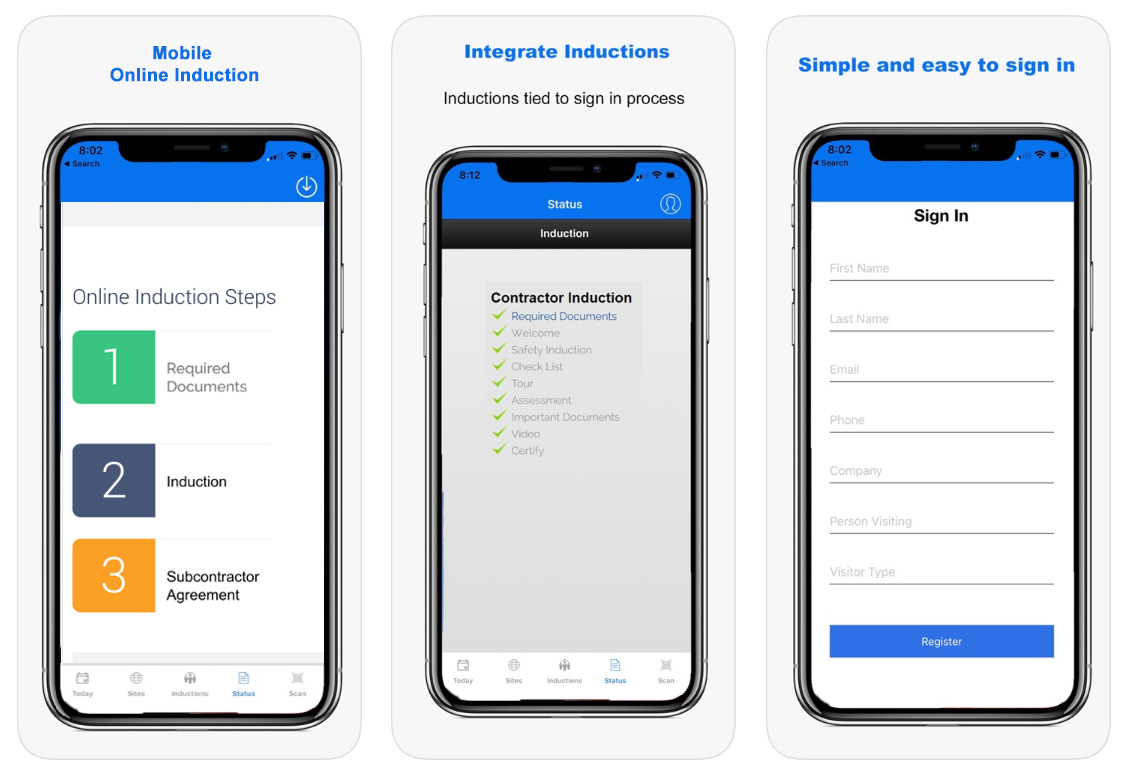 It's easy to setup an online induction app
Create your own induction forms, check lists, assessments, load up existing induction content or create new induction courses. Embed induction videos, presentations, different styles of assessments and create truly high impact and engaging induction experiences. Ensure all workers complete the induction before they arrive on the first day to begin their job task or role.
iPhone, Android or Tablets
Deliver your induction across multiple mobile devices so that no matter what platform your inductees are engaged on, using the online induction app they can complete their induction before they start work.
Site Induction App
If you have multiple sites, users can be inducted for the entire portfolio or just the sites they are working at. They can complete their entire induction from their mobile device before they arrive on site.
Setup Induction Forms
Capture licenses, tickets, evidence of training, insurances, JSA's, SWMS/Method Statements and other safety or compliance documentation all from the mobile device as part of their induction.
Issue a digital passport
As evidence of their compliance, can be scanned to prove their induction status, show evidence of training and spot check other safety information.
Try creating your induction using our induction builder
See how your site induction or organisations induction looks on the online induction app by registering free right here: