Online Induction >> Workplace Learning Platform
Workplace Learning Platform: Develop the best workplace training

Workplace learning is aimed at improving the skills of your workforce. As time passes the skills that people had when they started slowly drift out of date, either due to the invention of new techniques or adoption of new technology. They can also start to atrophy if they are not utilised or updated correctly. This can mean that staff will likely end up leaving (either by choice or be forced out due to no longer being able to keep up) and new staff will have to hired to replace them. This can be good in some circumstances however too many staff leaving can cause damage to the company image and culture.
It's important to decide on the learning and development opportunities the company and employees need. It is also important to think about and understand 'Why you are doing it?' and 'what is the company going to get out of it?' 'What it is that you want your staff and the company to be developing towards?' With these questions in mind it is important to create some sort of strategic plan to help execute your learning objectives effectively. Still how do you decide which learning areas should be offered?
View Templates, Forms and Examples

Identifying workplace learning skills gaps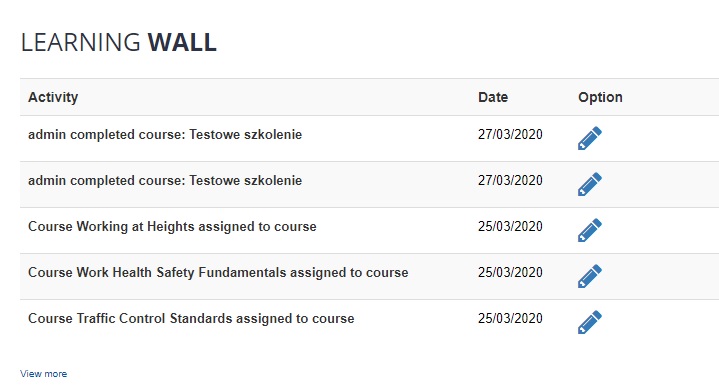 Not everyone needs to learn all of the same things and so it is important to figure out what is important to focus on. Offering a survey for employees to offer their input into which areas they would like to know about is one way to gather information, this can also be done face to face either individually or in a meeting situation. It also important to look for areas where the company may be falling behind and identify the necessary skills or knowledge that could assist. One way to do this is to gather feedback from the employees about what areas they might want to learn. For example, an employee may have skills they feel aren't as good as they could be, or they might be interested in areas outside of the ones they currently work. Some people have career plans and learning through work can be a great way for them to enact those. Even those that don't have any career aspirations can still want to learn new skills or relearn old ones. If they can learn in areas that they are interested in, then they are more likely to be engaged in learning and the company as a whole.
So, who will provide the training now that you've decided what you need to learn? Finding a training provider who is suitable can be a problem, however when assessing your learning plans it is also important to make sure that you assess how they will be delivered. Different types require different styles and have different time frames. It is important to ask questions such as 'Do they need an external provider, or can they be done in house?' 'How many people do they require?' Something like first aid requires as many employees as possible for a set time whereas others can be done in smaller groups with a more flexible timeframe.
Common workplace training options

Online: This provides the benefit of employees being able to be self-paced in regard to their learning.

Workshop: This is great for those who like a more hands on approach.

Using existing employees: This isn't a specific style per se, however there are probably lots of employees who have the experience and desire to instruct others. They can be utilised to instruct on these areas providing practical and on the job training.

Toolbox talks: These can be short and flexible. The main benefit they provide though is to allow employees to focus on specific areas and listen to other people's ideas and concerns.
Roleplays These can be useful if the problem is something that employees know how to do yet haven't done before or have done it and need some assistance to improve upon it.
Company Culture
When considering training opportunities, it is not enough just to consider the training and the cost. It is also vital to realise the role that the company's culture will play in the effectiveness of the training. This can be negative due to a lack of overall support for training, whether it is not offering enough opportunities, time or providing the required assistance. It can also be positive which will encourage the engagement of learning and employees supporting each other. It is necessary that this is understood prior to the training so things can be changed as required or the training will be useless.
Workplace learning should be a part of the company culture. It can open up new areas for employees and as a result encourage them to stay around longer and possibly encourage more interest in the company. The skills will increase, and the company will benefit as a result.
Access our workplace learning training library
Try creating your own workplace learning and training using our massive library of forms and courses