Online Induction >> Online Training Platform
Online Training Platform
An
online training platform
is a centrepiece for effective ongoing staff development and training. It is a critical tool to ensuring staff remain up to date, are trained on emerging workplace topics and continue to build new skills that help them achieve the best out of their role. A solid online training platform allows you to easily distribute staff learning courses to new staff before they start work as well as ongoing learning and development and refresher training to existing staff across the year. It involves creating easy to engage online courses, assigning to staff based on their skill gaps and required development opportunities so that they can complete online. An online training platform is a centralised course library for all learning courses.
Introducing the future
online training platform
: a comprehensive full circle staff training platform for assigning courses,
eLearning
, completing inductions, conducting refresher training, AI based suggested skill gap training and scheduled courses and training matrixes. Comprehensive
online training
platform and mobile app for creating, uploading, managing and delivering training courses to new and existing staff in your workplace - fast learning, real insights. Modern online training via mobile app on tablets and phones for fast delivery of courses, manage completions, massive library of training content and tools to create and publish your own courses online.
Massive Online Training Platform Course Library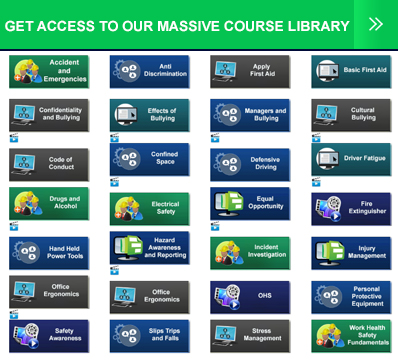 Our library of workplace courses you can use and customise / edit is growing every day. Here's just a sample of the courses you can get access to. Assign them to staff, personalise and edit the content and more.
View the full library here
Have your own content? No need to re-create it again - simply upload it as is and it will convert into an online and mobilie friendly format
Modern Online Training Platform

Mobile App


Create staff training courses


Refresher employee training courses


Deliver visitor training courses before they arrive on site


Site specific training courses


Role specific training courses


Get access to our massive library of ready to go course content


Certicate of completion


Multiple choice questions, interactive picture questions and other assessment types


Schedule and Reminders


Immersive 360 degree virtual content



Training Matrix
Establish an online training matrix for your organisation. Scheduled courses, completed courses, split by role, by type, due, overdue and much more. A matrix allows you to classify your workforce by role, department, competency, export to excel, filter by training type, training course, completed or outstanding courses plus other custom defined course fields.
Split your employees up into departments, roles, filter by training types, see when they are due to expire for certain certifications, licenses, courses and more.
Record external training
One of the best things about our training platform is that you can measure external training, not just the internally created courses you created on the platform. Capture expiry dates, have automated reminders sent when courses are due to be renewed, track progress, skills gaps, suggest courses to users and more.
Supporting different course content formats
Automatically Convert Existing Powerpoint, Videos, Word Documents and more
. No need to recreate your content from scratch, simply upload it as is and see it converted into an online format. Supporting a wide range of different content types from third party created courses, HTML5, SCORM, Flash, Powerpoint, Videos, upload away as is!


We support all document formats

Add text, sound, images, record voice overs and much more.

Online tests to assess users on their knowledge, multiple choice, interactive picture questions and much more.

Advanced tracking.

Add check lists for different course types.

Automatic reminders.
Mobile App - Create engaging online training experiences
Deliver your online training via our mobile app or even get your own dedicated and branded one, powered by our online training platform. It's a truly modern and engaging way to deliver and manage your ongoing new staff and employee learning in the workplace.
See how our online training platform can work for your organisations eLearning needs by looking at the online demo