Online Induction >> Free Visitor Management App
Free Visitor Management App
- Sign into Sites App for iPad / Tablets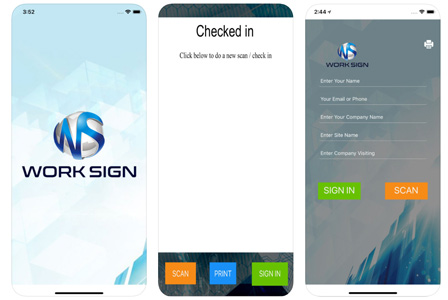 Free for contractors, employees and visitors to sign in on site / sign into reception.
Using the Work Sign app, visitor management has never been easier. All staff, visitors and contractors can sign in on site as they arrive (either using the app itself at a sign in kiosk setup or be automatically signed in based on a GEO fence setup automatically detecting their arrival on site.
View sites you are within range of
Automatic sign in for sites that are within range based on GPS location
GEO Fence a workplace for automatic sign in on site

View your sign in history

View your induction status

Access and complete a site induction

Scan in and out using the app

Free for contractors, employee and visitor to register
Download, Sign In, Go
All you have to do is download the app, register, sign in to the site, start working on site
Pick a site when in range to sign in or scan as you walk up to the sign in kiosk / tablet.
It's important to sign in on site to make sure you are recorded as being on site. In the event of an emergency or evacuation, they will know who is on site and where. You can receive important safety alerts in the event of an emergency or evacuation situation such as a fire.
Register Here
Get started with the Work Sign app right here: